Cullen Station
HO Scale Kit No. 180
Cullen Station is based on a structure once standing at milepost 133.9 on the Virginian Railway's old Norfolk Division. The multipurpose station had provided the town of Cullen, VA with both a freight and passenger depot. Situated along the trackage running from Victoria to Roanoke, the building housed the agent's office, a 9' 4" x 12' 0" freight room with adjacent loading dock, and an attached open shed "waiting room". We believe the structure to have been erected before the First World War and photographs suggest it remained in service after the Virginian's merger in to Norfolk Western in 1959 on through the early 1970s.
Besides incorporating AMB's usual Tab & Slot and Peel & Stick construction, affordable Kit No. 180 displays authentic board and batten siding, freight dock with "pre-aged" boards, hasp, lock, and hinge details on the freight door, white metal smokejack, and both a bench and exposed framing in the shed. When assembled, Cullen measures 4.25" long x 2.5" wide (includes dock) x 1.75" high.
MSRP $29.95
Also available . . . . . .
HO Scale Cullen Handcar Shed
Complimenting our Cullen Station Kit (No. 181) is this replica of a standard design Virginian two-bay Handcar/Maintenance Shed. The board and batten structure exhibits the usual array of AMB's laser-cut kit features plus positionable doors with hardware and a dual track setoff. Measures 3.125" long x 1.75" wide x 2" high.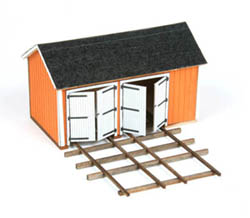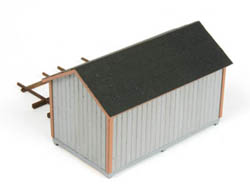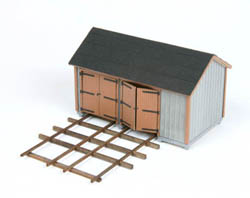 HO Kit No. 191 Cullen Handcar Shed
MSRP ...$18.95
Copyright © 2002-2015 American Model Builders. All rights reserved.
Revised: February 12, 2015