McCready's LTD
"Pickle Packers and Condiments"
HO Scale Kit No. 728
The inspiration for our latest laser-cut kit comes from the former McCready's Limited of Saint John, New Brunswick, Canada. Established in 1883, the company originally packaged pickle products along with the production of vinegar. The small firm later diversified its line with a number of bottled table sauces and fruit syrups sold at grocers across Canada. Although no longer standing, the original wood frame structure with its outdoor vats continued to employ area residents into the 1960s. Used in conjunction with our G.R. Dill & Sons Salting Station Kit No. 725, the modeler can recreate a point-to-point industry for which their model railroad can serve. Similar pickle manufacturing operations could be found throughout the United States from the late 1800s through the early 1970s.
A great small industry to add to your layout, our new creation conveys the frame construction of these small pickle packing plants with its 100% laser-cut real wood assembly right down to the rafter tails, elevator tower, and four brine vats, which display individual wood planks and banding. Made from quality birch plywood and basswood, the modeler will easily be able to obtain that stained weathered look of the prototype factory. Furthermore, the modular design of the kit, which includes the open platform with vats and loading/unloading docks situated around the main structure, affords the modeler relative ease in placement of the facility on their layout.
Kit No. 728 features everything the discriminating craftsman has come to expect from a LASERKIT® including Peel & Stick windows, door, trim, and roofing material; custom scribed platform and dock decking; Tab & Slot wall and platform substructure assembly; laser-cut ladders and wheelbarrows; white metal smokejacks and elevator drive chain assembly; cast resin casks, crates, sacks, and even cucumber loads for the wheelbarrows; optional open vat with simulated brine, well-illustrated instructions, sections of our wood privacy fence, and full color signage. As shown, the McCready's operation measures 8.5" long x 5.25" wide by 6.5" high including side docks with the end ramp adding another 2" to the length while the separate vat platform measures 3" long x 3" wide x 1" high.
MSRP $139.95
Also available . . . . . .
The Pickle Works
G. R. Dill & Sons Salting Station
Kit No. 725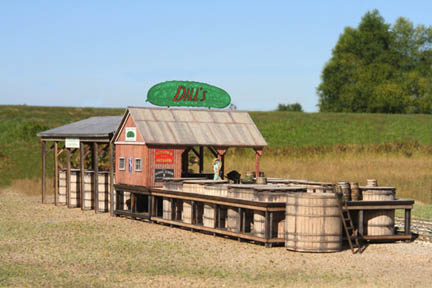 Click on photo above for more information!
HO Scale Pickle Car Conversion Kit
While the Pickle Car Conversion Kit has been designed to compliment our popular HO scale Pickle Works Kit No. 725, the completed car makes for an interesting member of any freight consist too from the steam era through the early 1960s. In fact, photographic evidence proves a few of the privately owned, similar appearing, steel constructed super structure wood vat cars were still being used into the 1970s.
Designed to fit a 40 foot flatcar, we've found the Athearn and Tichy models, in particular, work the best for the conversion. The Athearn car will require the removal of the existing brake stand, but the included laser-cut deck and brake gear will work equally well on both brands of flatcar. Although most of the open vat cars we researched displayed smooth side sills, we left the molded-in stake pockets in place on our sample Athearn based car pictured below while the Tichy flatcar kit offers the option to leave the stake pockets off. Custom decals, produced by Rail Graphics, are included as well and provide numbers for five different pickle cars under the ownership of G. R. Dill & Sons (G.R.D.X.).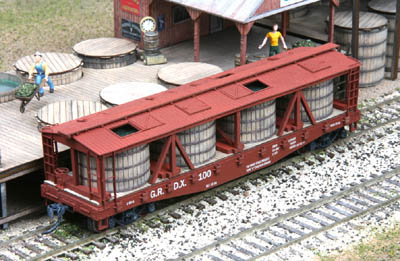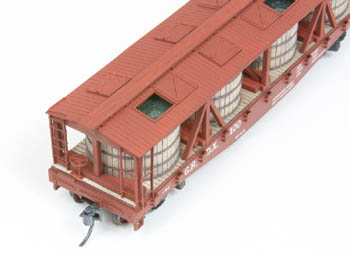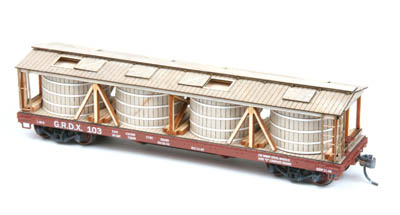 HO Kit No. 391 Pickle Car Conversion
MSRP ...$37.95
Real Wood Storage Vats
Includes four covered and one open Vat. Laser scribed and cut from Birch plyood and basswood. Open Vat includes simulated brine insert as found at Pickle Salting Stations. Each Vat measures 1.125" in diameter x 1" high (ladder shown not included).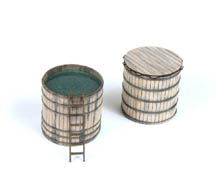 HO Kit No. 390 Real Wood Storage Vats
MSRP ...$18.95
Copyright © 2002-2019 American Model Builders. All rights reserved.
Revised: November 8, 2019