NEW RELEASES


Last Updated March 1, 2019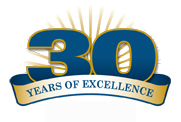 Remember - If it doesn't say American Model Builders, Inc. on the box, it's not a genuine LASERKIT!
Click on the link below to go directly to the NEW releases for that particular scale or subject:
N SCALE HO SCALE S SCALE O SCALE
WARNING: American Model Builders, Inc. products are not intended for children under 14 years of age!



New York Central 19000 Series Wood Cupola Caboose
Along side the Hudson steam locomotive, the 19000 series wood caboose, with its distinctive low cupola, was the iconic image of the New York Central from the early teens of the 20th century through the 1960s. Referred to as the "standard" caboose of the NYC, the 19000 series was actually a compilation of cars created from a fleet of nearly 2000 cabooses, which were inherited from predecessor roads – some dating back to the 1890s. Between 1912 and 1926, many of these cars were rebuilt with common features such as window arrangement, steel underframes, and low cupolas, but, as eight different company shops were involved, subtle variations resulted.
Kit No. 554 features: 100% laser-cut components with custom laser-scribed Birch plywood side, end walls, and cupola; Tab & Slot carbody construction; Peel & Stick window, door, and trim assembly; laser-cut underframe, end platforms, ladders, end railing, hand grabs, window glazing, truss rods, and brake wheels; cast resin platform steps and brake gear; plastic smokejack; custom decals by Tichy Train Group; and fully illustrated instructions that provide information on painting and decaling the assembled model. In addition, the N scale kit provides for optional details too such as square or rounded body corner posts; side windows that can be modeled open or closed; two different styles of roofwalks; and cupola end window variation. We recommend the purchase of Micro-Trains No.1015-1 Universal Body Mount Couplers, Atlas No. 22061 Friction Bearing Caboose Trucks, and paint and glue of your choice for the completion of this kit.

N Scale Kit No. 554 New York Central 19000 Series Wood Cupola Caboose
Available now MSRP ...$37.95
Generator Flat Car Load
Designed to fit 50' or longer N scale flat cars, our latest load features seven cast resin generators, ready for painting, along with easy to assemble laser-cut wood framing and blocking. Assembled load measures 3.25" long x 0.625" wide x 0.4375" high.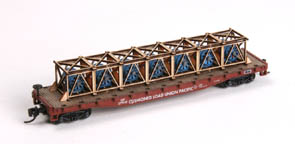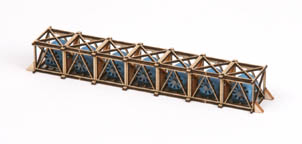 N Scale Kit No. 519 Generator Flat Car Load
MSRP $15.95
Boron Station
Boron Station is based on structures once standing at mile post 784.0 on the Santa Fe's Valley Division. The 14' x 24' frame passenger depot had been constructed in 1896 as the Kramer, CA facility, but moved to Boron, CA in 1941in order to handle the large volume of borax shipping from the area during World War II. A separate 12' x 17' frame baggage room, built in 1900, was also moved to Boron from Kramer. The depot was closed in 1982, the last operating agency between Barstow and Mojave, and in 1987 was moved to the nearby Twenty Mule Team Museum, where it currently remains on display. The baggage room, however, was left behind and continued to serve as a maintenance-of-way shed through the Burlington Northern - Santa Fe merger.
Our new laser-cut Santa Fe depot and baggage room feature prototypical board and batten architecture; tab and slot construction; peel and stick windows, door, trim, and shake style shingles ; accurate bay window configuration; metal smoke jacks; cast resin swamp cooler (air conditioner); and full color signage. Assembled depot measures 4" long x 2.5" wide (with swamp cooler installed) x 2" tall while baggage room measures 2.625" long x 2" wide x 1.75" tall.

HO Scale Kit No. 194 Boron Station
MSRP ...$52.95
Midland Valley Wood Cupola Caboose
The Midland Valley's 121 -130 series cabooses had their origins with the Florida East Coast Railroad. The FEC took delivery of their first ten 700 - 800 series wood side door cabooses from Mount Vernon Car Company in 1923. Another 100 cars would be received by 1927 built in the shops of both Mount Vernon and the Magor Car Company. The cabooses featured steel frames, a 33 foot 10 inch long carbody, ratchet-type handbrakes, and rode on either Andrews leaf spring trucks or express-type trucks.
The Midland Valley purchased ten of the FEC cabooses secondhand through Georgia Car and Locomotive in late 1936 at a cost of $1650 each. The new crummies more than likely arrived still exhibiting their side doors as FEC did not rebuild their own fleet until the 1950s, at which time they removed the doors in favor of a window. Nonetheless, the MV would by the late 1940s make the same modification to their cabooses with a large window replacing the side door.
The MV car series appears to have been generally retired by the early 1950s upon the arrival of Kansas Oklahoma & Gulf's new International Car Company steel cabooses. At least one of the cars, No. 128, received steel sheathing over the original wood siding while another, possibly No. 121, was completely rebuilt with steel sides and converted to an airbrake instruction car. The balance of the small fleet is believed to have been relegated to bunk car service before being scrapped.
Kit No. 886 features 100% laser-cut components with custom laser-scribed side and end walls; Tab & Slot and Peel & Stick construction; laser-cut underframe, end platforms, end railing, and brake wheels; cast resin platform steps and brake gear; white metal smokejack; multi-name logo signage; fully illustrated instructions that provide information on painting and decaling the assembled model; and fixtures to aid the modeler in creating all the handholds, ladders and truss rods appropriate for the prototype. We recommend the purchase of Kadee No. 580 Bettendorf AAR Caboose Trucks or WalthersProto 920-2032 Andrews Caboose Trucks, Kadee No. 5 couplers with draft gear boxes, Micro-Scale Decals 90321 Railroad Roman Letters and Numbers, and the paint and glue of your choice for the completion of this kit.

HO Scale Kit No. 886 Midland Valley Wood Cupola Caboose
Available now MSRP ...$52.95
Window Sets for Atlas Dash 8s
The latest additions to our diesel locomotive replacement window line-up include kits for the Atlas HO scale GE Dash 8-40C (standard cab) and GE Dash 8-40CW (wide cab). Both window sets feature our laser-cut crystal clear and distortion-free acrylic and come pre-masked; so they can be installed before the final finish is applied to the carbody. Each kit includes all the cab window glass as well as the numberboard glazing for both hood ends.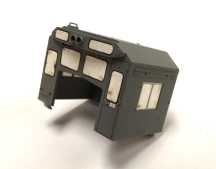 HO Scale Kit No. 281 Window Set Atlas Dash 8-40C (Standard Cab) MSRP $5.95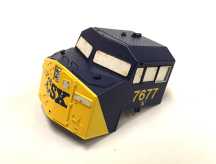 HO Scale Kit No. 282 Window Set Atlas Dash 8-40CW (Wide Cab) MSRP $5.95
Stationary Steam Engine Load
Our Stationary Steam Engine Load represents the components making up a typical 250 horsepower engine in HO scale. Depending on how it's finished, the modeler can recreate the delivery of a brand new engine or a rusted relic being hauled away for scrap. In this manner, the load can be utilized by both steam and diesel era modelers of any modeling period. The finished load is shown below on an HO scale Athearn 50' flat car as well as divided up onto two HOn3 Blackstone 30' narrow gauge flat cars. Furthermore, S and O scale modelers may even use this kit with the load representing a 175 and 125 horsepower engine respectively. Kit includes resin castings and laser-cut wood parts.
Kit No. 210 Stationary Steam Engine Load MSRP $12.95
Springfield Depot
Inspired by the countless number of small town railroad depots found across North America, the newest addition to our S scale line has been aptly called "Springfield Depot" for the widespread use of that town name in the US. The clapboard sided structure borrows elements from multiple designs displaying a centrally located angled three window bay with a small freight room on one side and passenger waiting room on the other side.
At only 7.5" long x 3.75" wide x 3" tall, the S scale depot will fit just about any 1/64 standard or narrow gauge layout with a rural or urban setting dated from the late 1800s though the present. The kit features 100% laser-cut parts that include tabbed and notched walls, peel and stick windows that can be assembled in layers for an optional open window effect, peel and stick trim, peel and stick shake style shingles, interior floor with wall partitions, our "stand alone" bay window design, detailed gable brackets, and a white metal chimney.
S Scale Kit No. 80 Springfield Depot
Available now MSRP...$74.95
Mine Trestling
This 100% laser-cut O scale basswood kit is designed to either augment the parts provided in our Kit No. 488 Martinsburg Coal Mine, to fit your own mine structure, or as a stand-alone unit. The kit provides 20 linear inches of "tailings trestle", which can be assembled in a straight line or curves to suit your scenery.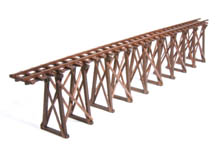 O Scale Kit No. 452 Mine Trestling
MSRP ...$39.95
"The Pickle Works"
G. R. Dill & Sons Salting Station
A great small industry to add to your layout, our new O scale kit conveys the early appearance of pickle salting stations with its 100% laser-cut real wood construction right down to the 20 brine vats, which display individual wood planks and banding. Made from quality birch plywood and basswood, the modeler will easily be able to obtain that stained weathered look of the prototype facilities. Furthermore, the modular design of the kit, which includes the open platform with vats and freight car loading point and elevated shed with covered deck affords the modeler relative ease in placement of the structures on their layout even on curved sidings.
Kit No. 451 features everything the discriminating craftsman has come to expect from a LASERKIT® including Peel & Stick windows, door, trim, and roofing material, custom scribed platform decking, Tab & Slot wall and platform substructure assembly, laser-cut ladders and wheelbarrows, cast resin casks and cucumber loads for the wheelbarrows, cast resin scale, optional open vats with simulated brine, well-illustrated instructions, and full color signage that includes a unique dill pickle shaped rooftop billboard. As shown, the G. R. Dill & Sons Salting Station measures 16.5" long x 6.5" wide by 7" high with the elevated shed 5" long and the open platform 11.5" long. Click on photo below for more details!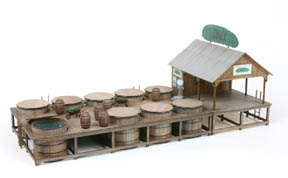 O Scale Kit No. Kit 451 The Pickle Works
Available now MSRP...$189.95
Copyright © 2002-2019 American Model Builders. All rights reserved.
Revised: March 1, 2019